Dexter Farmers Market

Weekly Newsletter #7
| | | | | | | | | |
| --- | --- | --- | --- | --- | --- | --- | --- | --- |
| |   | |   | |   | |   | |
COVID related Market News:

     Beginning now, "essential supply" vendors will be allowed to distribute at the DFM by appointment. Please contact the vendors in the index below to set up purchases. SNAP/PEBT cards are welcome! If you have any questions please email the market manager, Dana Queen at farmersmarket@dextermi.gov.



*Please let your "off-line" friends and neighbors know about this option, it is difficult to communicate these changes to those that do not use email or Facebook without using paper and increasing transmission risk.*
May 8, 2020

Sat 8am-1pm / Tues 2pm-6pm
3233 Alpine St, Dexter, MI 48130
(Vol. 1 Issue 7)
  Attention gardeners! There will be a "killing frost" between now and Monday night! Please cover in-ground plants with an over turned pot or bucket, or lay a light sheet over them. Bring in any potted plants to a protected area (garage, greenhouse, basement, etc) to protect from these frosty temperatures! Come on Mother Nature!!

The Market is Opening Sat, June 6 at 8am
     Farmers markets are an essential part of the food industry and as such, we have begun distributing food for the month of May in a pre-order, pick up format. At this time, a customer may choose any vendor of food, produce, food plant or personal hygiene from the index below, place an order, and choose to pick up from the market.
You are also encouraged to place orders with our lovely craft vendors for shipping or contactless delivery.
At our opening in June, things will feel quite different from the environment we have been cultivating over the years! Many of the measures we will be taking are familiar from the expectations at your regular indoor grocery store. Please only send one person from your household to shop, wear a mask, and wash your hands at our provided hand washing station (we also have hand sanitizer in the dispensers in the center of the market).
    Sadly, one of the most important messages we will be sending is:

please do not linger.

All events, music and kids activities are suspended for both Saturdays and Tuesdays. We will be controlling how many people can be in the market at a time, so please look for directions pertaining to gate location onsite. More instructions will be available closer to opening.
SNAP, PEBT, Double Up Food Bucks
    Many residents have needed to sign up for food assistance benefits during the pandemic and we are happy to welcome you to the Dexter Farmers Market! Don't be shy to have us walk you through anything you need to know to get healthy food on your table, utilizing your Bridge or PEBT card. (Please note: if your child(ren) qualify for free lunch at school, you should receive a PEBT card automatically.

)
    The DFM has secured a Double Up Food Bucks grant, which matches customers charges on their cards. For example, if you have been provided a PEBT card recently, you can come to the market and charge $30 with the market manager and receive wooden tokens that can be spent on approved items with any vendor. In addition to those tokens, Double Up Food Bucks will match you $30 (in this example.) DUFB will match whatever amount you charge your SNAP/PEBT card (unlimited!) in $2 increment aluminum tokens. These are free of charge, but can only be spent on fresh fruits and veggies. This means your SNAP tokens can be saved for

honey, bread, meat, eggs or veggie plants!
   The Bike Medic will be servicing your bikes for free like every year, but this season they will be at a different location: Scio Community Church, 1293 N Zeeb Road. Bill and company will be following safe contact; you must set up an appointment for service. You can get in contact with them through their Facebook page

here.
    Farmers and farmers market vendors are hurting! They can't bring their products to you and need a little support! If you have

money or supplies to donate

please do. Follow this l

ink

to find a list of support organizations for all levels of the local food supply.

Follow this link

to an

comprehensive index of Washtenaw county area vendors with online purchasing capability

, not just DFM participants.
     Have you ever envisioned yourself as an entrepreneur, charming people at the market? Is your vegetable bed enough to feed an army? We have an open application deadline and welcome new vendors anytime of the year. Please visit our

website

and fill in an application! Tell a friend! 
    This is where you will find the list of our vendors and what they offer, to be updated every week. Click the links to go to each vendors website and find ordering info.
     Unfortunately, all farmers markets are closed at this time, but you can find fresh, local food at Vestergaard Farms on Wagner Rd. in Ann Arbor, Argus Farms Stop on Liberty in Ann Arbor or Agricole Farm Stop on M52 in Chelsea. They are all following modified curbside service, please consult their websites for details.
Two Dogs Farms

- perennials, annuals, veggie starts, berries, fruit, veggies, maple syrup and jellies and jams from Ray Sowers. And coming soon: Scottish Highlander grass fed Beef!!
*see below for vendor profile*
Paper Cup Coffee Co

- Isaac brings the freshest, fire-roasted coffee by the cup, whole bean and ground; plus hand-dipped chocolate cake donuts and date balls. Follow his Facebook

here

.
Wild Dandelion Acres

- Eli and Amanda sell pasture raised organic fed chicken, turkey, and pork as well as eggs. Their farm has vegetable seedlings for starting as well. They believe in feeding their local customers farm fresh food with no additives or GMOs. Follow their

Facebook!
Sign up for their newsletter

here.
Hoppy Soaps

- Stephanie fills the market with the fresh smells of bar soaps, bath bombs, shower fizzies, deodorant, lip balm, body butter, and herbal sachets. Some of these products are even made from her home-brewed beer! Follow her on Facebook

here

.



Shagbark Knoll

- Henry has gorgeous asparagus, beans, beets, tomatoes, apples, plums, basil plants, and Zephyr squash.

NOKA Homestead - Noelle has a breath taking array of produce. From radishes to greens to potatoes, all grown with respect and care for the earth and its creatures! They have a variety of CSA boxes this year, please visit their site to sign up for their wait-list. Follow their Facebook

here

. Sign up for their newsletter

here

to hear how they can bring you fresh produce this year regardless of market open date.



Owl Hollow Bakery

- Anne will have delicious pies, breads, baked goods, granola, Amaizin' popcorn, free range eggs, maple syrup, and pure Greek olive oil.

Shoreline Wild Salmon
- wild, Alaskan, hook-and-line caught salmon. King and Coho Salmon sold frozen in vacuum sealed
packages. Smoked Coho Salmon sold in shelf stable jars. Marie and her dad, Mark handle the fish with the utmost care, all the way from the fishing vessels in Southeast Alaska to the farmers market in Dexter!
Look for them in May, August, September and October.
MaryAnn Simpkins

- one of our founding members brings produce, baked goods, sewn and crocheted housewares, nuts, soaps, eggs, honey, too much to name! Please keep an eye here for her earliest harvests, there will be lettuce soon!
Jeff Peters

- Jeff is a market staple in his 11th year at the DFM. He brings breathtaking cut flowers like Cosmos, Sunflowers, Zinnias, Cockscomb, and a rainbow of lilies. He will also have leeks, storage onions, kohlrabi and tomatillos.
My Serenity, Creations by Rachel

- lovely bath, body and home goods, soy candles, natural deodorants and bath bars.



Manchester Blooms Flower Farm

-

Amy grows beautiful bouquets, arrangements, and buckets of freshly cut, locally grown annuals. Some of the bright beauties offered include: Cosmos, Zinnias, Sunflowers, Allium, Poppies, Daisies and many other wildflowers. This year, Amy will also be offering a wide selection of herbs,edible flowers and beneficial plants. Online ordering begins in July.





Herb 'N Beans

- Steve has artisan crafted coffee, tea, locally grown hemp flower and oil, and freeze-dried fruits and veggies.



Judy Welsh

- charming hand cut cards, framed beach glass, driftwood art and notebooks.



Sweet and Salty Cookie Co

- Jeff is back with the best cookies! Chocolate chip, double dip chocolate chip, M&M, peanut butter, snicker doodle chip, butterscotch, Special Dark, Reese's, sea salt caramel, dark chocolate pecan, maple oatmeal raisin, pecan raisin, milk chocolate raisin, molasses, caramel apple crisp, gluten-friendly chocolate chip and gluten-friendly dark chocolate pecan.



GVR Farms

- Gage is returning to the Tuesday market with lettuce, carrots, radishes, asparagus, micro-greens, potatoes, and pumpkins.



Paper Bead Elegance

- Karen makes the most fascinating jewelry - from paper! Barrets and earrings; durable and gorgeous artisan statement pieces.



BB's Beauty Organics

- Brittney puts a new twist on bath products. She makes body sprays and rooms sprays, plus shaving cream, sugar scrubs and foot scrubs.



Specialty Tea Products (STEAP)

- Amanda has a variety of loose leaf teas and blends. Visit her website to sign up for a subscription!



Skalski Farm in Hamburg

- John and Rochelle will be back this year! Their vegetable, fruit, and start plants are grown using organic methods. They will have larger, more mature vegetable, herb and flower starts sold in individual pots. Teaser: they will have strawberries, blueberries, raspberries and sweet corn!!



Ski's Sausage Co

- this is Dan's first year, but he's a local from Pinckney! He offers a large variety of sausages; traditional Polish kielbasa and cheddar, jalapeno cheddar and traditional bratwurst.



Ruhlig's Produce

- Janelle and Matthew come from the long time Dexter farming family, Ruhlig. After a few years off, they will be returning in July, to bring corn, beans, greens, squash, tomatoes, peppers and more!



New Vendors Added Every Week!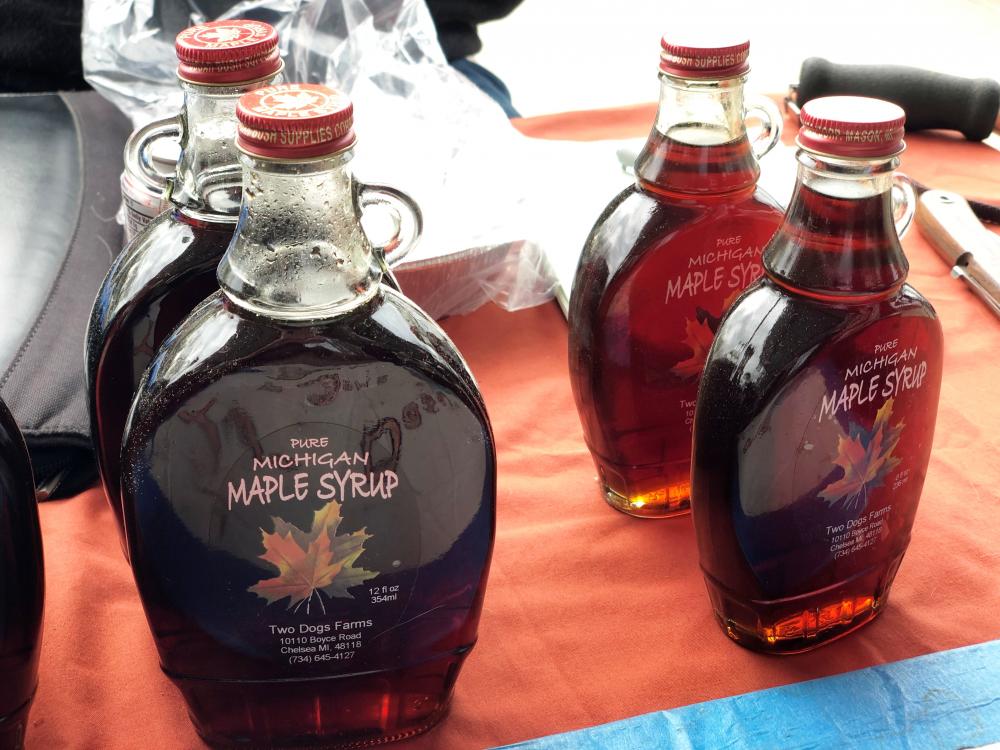 Vendor Profile:

Two Dogs Farms
  Ray Sowers of Chelsea
is a retired electrical engineer turned farmer. Growing up, his grandfather had 720 acres in Kansas, where he raised a large Hereford cow herd. Ray began working for him as soon as he could reach the tractor peddles.  After his grandfather passed away when Ray was 13, he began working for the neighbor who had a large Holstein cow herd. He spent days helping put hay in the barn and silage in the pit, and milking the 30+ cows, until he graduated college; never giving anymore thought to farming himself.
     He and his late wife, MaryFran moved to Michigan in July of 1987. Ray worked for the Eastern Michigan University Facility Department until he retired June 2011. MaryFran worked at University of Michigan as Professor of Epidemiology in the School of Public Health. After she passed away in July 2011 from cancer, Ray and his son, Paul decided to stay in Michigan.
    Ray wanted to get acreage, but they didn't start out looking for something as large as they ended up with! They found a 70 acre farm he bought in the fall of 2012. Ray and Paul split the property and each built houses. Both guys have wonderful dogs and named the farm "Two Dogs Farms" after them.
   Little did they know how many resources there were on this newly purchased property; 2 maple groves for syrup and wild blackberries, elderberries, wild grapes, wild red raspberries, and crab-apples he uses to make jams, jellies and preserves.

Shortly after buying their farm, they began clearing Russian Olive to make way for a 50 tree orchard with 30 apple trees, a large produce garden and a 25 acre area that can be mowed and baled for grass hay. They dug a pond near the orchard to provide water for the trees and restored a mortise and tenon barn built in 1875, that houses several hundred bales of hay.


In more recent projects around the farm, Ray and Paul have built a greenhouse, that they are learning to use more and more. This spring you will find inside Black-Eyed Susans, Snap Dragons, and Hollyhocks that all survived the winter, as well as green beans, leafy greens, and tomato plants, all intended for market when we open. They have also planted a strawberry patch, asparagus patch, 30 blue berry bushes, and every year have expanded the red raspberries. 

Most excitingly: they are building fence for Scottish Highlander steer!  We look forward to their new beef supply to be available at the market in the coming months.




Ray's latest thoughts: "The orchard will be beautiful if the freeze does not kill every thing. We are planning to have campfires burning Friday night into Saturday morning to try to protect them."

Good luck, Ray! We're pulling for all of our farmers and gardeners out there! Keep an eye on the weather reports!
Upcoming Events


At this time, the DFM anticipates opening on June 6th. We are following data and consulting with the Washtenaw County Health Department on the best format for our sales floor. Please be patient and know that we are working hard to provide free entertainment and educational events to Dexter as soon as is possible. Events will resume when all threat of community spread has been addressed.
Roasted Herb Radishes
Raw radishes are crisp, crunchy and peppery, a lovely addition to salads, but when you roast them - magic happens. They soften, get tender and loose their peppery taste.

Many call them an alternative to roasted potatoes.

Yields 4 servings



Ingredients
2 bunches radishes, trimmed

2 tablespoons extra-virgin olive oil

1 teaspoon ground garlic, thyme, oregano, basil, etc

salt to taste

½ lemon, juiced





Directions




Thanks to

John Matthews

for the recipe suggestion! Would you like to see your recipe featured in the market newsletter? Submit your recipe and photo to farmersmarket@dextermi.gov

| | | | | | | | | |
| --- | --- | --- | --- | --- | --- | --- | --- | --- |
| |   | |   | |   | |   | |