Dexter Farmers Market

Weekly Newsletter #2
| | | | | | | | | |
| --- | --- | --- | --- | --- | --- | --- | --- | --- |
| |   | |   | |   | |   | |
April 3, 2020

Sat 8am-1pm / Tues 2pm-6pm


3233 Alpine St, Dexter, MI 48130
(Vol. 1 Issue 2)

     We hope that you are enjoying this sunshine in whatever way you can. Studies are showing that reasonable exposure to UV rays, which causes our bodies to create vitamin D, have a positive effect on our immune systems. What a great way to fight off a variety of illnesses and there is a boost to our moods! Check out studies here at this

link

.

       We are still receiving applications and adding to our vendor list below. Please remember now is the most important time to SHOP LOCAL, EAT LOCAL. In the list below you should be able to find just about anything you need to run your household. From a complete day of meals, to bathing and home supplies. There will be changes to this list every week, so be sure to look closely. Also, don't forget to check the end of this mailing to find the second half of your sourdough recipe!

     Have you ever envisioned yourself as an entrepreneur, charming people at the market? Is your vegetable bed enough to feed an army? Do you have a favorite restaurant you'd like to see at "Tasty Tuesday"? We have an open application deadline and welcome new vendors anytime of the year. Please visit our

website

and fill in an application! Tell a friend! Tag a restaurant in the Facebook Comments!

    This is where you will find the list of our vendors and what they offer, to be updated every week. Click the links to go to each vendors website and find ordering info.
     Unfortunately, all farmers markets are closed at this time, but you can find fresh, local food in an every day grocery store format at Vestergaard Farms on Wagner Rd. in Ann Arbor, Argus Farms Stop on Liberty in Ann Arbor or Agricole Farm Stop on M52 in Chelsea. They are all following modified curbside service, please consult their websites for details.
NOKA Homestead

- Noelle has a breath taking array of produce. From radishes to greens to potatoes, all grown with respect and care for the earth and its creatures! They have a variety of CSA boxes this year, please visit their site to sign up for their waitlist. Sign up for their newsletter

here

to hear how they can bring you fresh produce this year regardless of market open date. *See below for their Vendor Profile!*



Jacob's Fresh Farm Shares

- chicken and duck eggs, as well as a wide variety of veggies and fruit grown with natural methods from heritage and non-GMO seed. They have several different types of CSAs depending on your family's needs, including boxes that have bakery and coffee items included. Visit his site and get signed up today!



Hives on the Hill Apiary

- Jacob also runs a great honey business. Find honey in all sizes of jars, plus he will remove your swarms!



MaryAnn Simpkins

- one of our founding members brings produce, baked goods, sewn and crocheted housewares, eggs and honey. Please keep an eye here for her earliest harvests, there will be lettuce soon! Please email to pick up at ma8075sh@gmail.com.

Shoreline Wild Salmon
- wild, Alaskan, hook-and-line caught salmon. King and Coho Salmon sold frozen in vacuum sealed
packages. Smoked Coho Salmon sold in shelf stable jars. Marie and her dad, Mark handle the fish with the utmost care, all the way from the fishing vessels in Southeast Alaska to the farmers market in Dexter!
Look for them in May, August, September and October.
Hoppy Soaps

- Stephanie fills the market with the fresh smells of bar soaps, bath bombs, shower fizzies, deodorant, lip balm, body butter, and herbal sachets.



Paper Cup Coffee Co

- Isaac brings the freshest, fire-roasted coffee by the cup, whole bean and ground; plus hand-dipped chocolate cake donuts and date balls.



Owl Hollow Bakery

- Anne will have delicious pies, breads, baked goods, granola, Amaizin' popcorn, free range eggs, maple syrup, and pure Greek olive oil.



Two Dogs Farms

- perennials, annuals, veggie starts, produce, syrup and more from Ray Sowers.



Wild Dandelion Acres

- Eli and Amanda have started a homestead where they use all natural methods to pasture raise chicken, turkey and pork, eggs and soon goat's milk soaps!

My Serenity, Creations by Rachel - lovely bath, body and home goods, soy candles, natural deodorants and bath bars.



Manchester Blooms Flower Farm

- Amy grows beautiful bouquets, arrangements, and buckets of freshly cut, locally grown annuals. Some of the bright beauties offered include: Cosmos, Zinnias, Sunflowers, Poppies, Daisies and other wildflowers. Her Spring Tulip selection is full of lovelies like Paradise, Rembrandt, Strawberry Triumph, Sweet Pink, Blush Beauty, Menton, Purple Lady, and Wijia. Buy a dozen of a single variety or mix and match to customize your bouquet. This year, Amy will also be offering a limited amount of herbs and produce, check back for updates!



Herb 'N Beans

- Steve has artisan crafted coffee, tea, locally grown hemp flower and oil, and freeze-dried fruits and veggies.



Judy Welsh

- charming hand cut cards, framed beach glass, driftwood art and notebooks.



Sweet and Salty Cookie Co

- Jeff is back with the best cookies! Chocolate chip, double dip chocolate chip, M&M, peanut butter, snicker doodle chip, butterscotch, Special Dark, Reese's, sea salt caramel, dark chocolate pecan, maple oatmeal raisin, pecan raisin, milk chocolate raisin, molasses, caramel apple crisp, gluten-friendly chocolate chip and gluten-friendly dark chocolate pecan.



GVR Farms

- Gage is returning to the Tuesday market with lettuce, carrots, radishes, asparagus, micro-greens, potatoes, and pumpkins.



Paper Bead Elegance

- Karen makes the most fascinating jewelry - from paper! Barrets and earrings; durable and gorgeous artisan statement pieces.



BB's Beauty Organics

- Brittney puts a new twist on bath products. She makes body sprays and rooms sprays, plus shaving cream, sugar scrubs and foot scrubs.



Specialty Tea Products (STEAP)

- Amanda has a variety of loose leaf teas and blends. Visit her website to sign up for a subscription!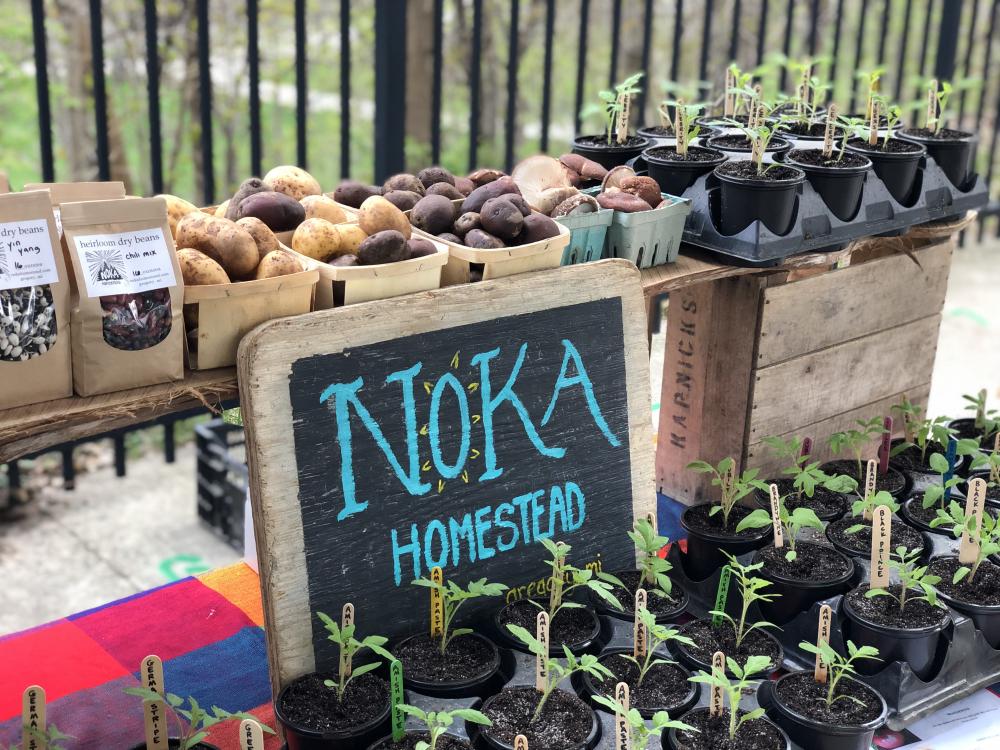 Vendor Profile: NOKA Homestead
Noelle Dronen, the lead farmer at NOKA, has been farming for 12 years in both Michigan and Washington state. She and her family now carefully cultivate 6 acres of sandy soil at the woods' edge in Gregory.
They practice low till and natural methods in the fields. "Low till" refers to disturbing the earth as little as possible to maintain a healthy biome of organisms and physical structure of the soil. "Natural methods" is a term that many farmers use to indicate that they are using "organic" growing methods, without the difficulty and expense of becoming a certified organic farm. Their years of experience and their deep love for the environment and people shows in their work and kind personalities.
This year is providing a new and rarely anticipated challenge for everyone in the local food system. Noelle has just launched her email newsletter that you can sign up for by following this
link
. She has a wait-list growing for their CSA shares and is working hard to come up with a plan for getting food to the Dexter area this season.
This family is possibly the most friendly and kind one a person could find. They each always have a smile and hug for others. Noelle will patiently answer questions, listen to concerns, share recipes and her cooking methods. Click the link below to learn more about these ecological champions!
Upcoming Events

At this time, the DFM does not anticipate opening on time. We are following data and consulting with the Washtenaw County Health Department on the best time to open and in what format. Please be patient and know that we are working hard to bring healthy, fresh food to Dexter as soon as is possible Events will resume when all threat of community spread has been addressed.

Part Two: Bake the Bread!
   Now that you have been feeding your baby sourdough starter for a week, you should be ready to make some bread!! Follow the link below for the other half of the King Arthur Sourdough bread recipe.

Ingredients

1 cup (227g) ripe (fed) sourdough starter
1 1/2 cups (340g) lukewarm water
1 to 2 teaspoons instant yeast*
2 1/2 teaspoons salt
5 cups (602g) King Arthur Unbleached All-Purpose Flour
Follow this link for directions:


| | | | | | | | | |
| --- | --- | --- | --- | --- | --- | --- | --- | --- |
| |   | |   | |   | |   | |